BORDERLINE
Natalia Rozmus-Esparza
8/9 – 19/9 2021

In November 2017, Natalia Rozmus-Esparza travelled to the Middle East, Israel, Jordan and Palestine. She visited Jerusalem, Bethlehem and Petra. This short but intense journey brought about a series of almost fifty paintings created until recently. The Mediterranean basin, its culture and tradition attracted Natalia.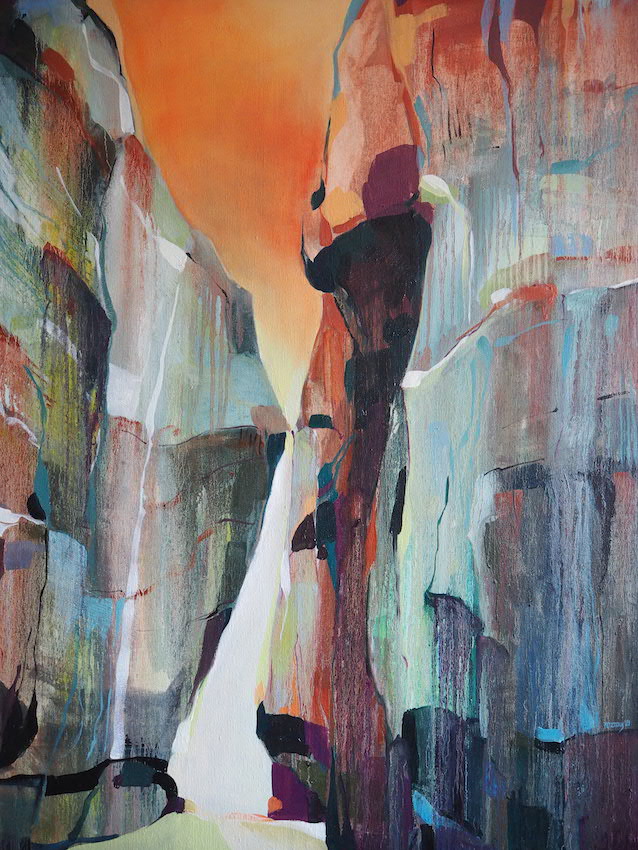 I had the opportunity to see the effects of her Italian journey in the university's Rotunda Gallery. Even then, the characteristic formats of the canvases and vertical panels showing the heights of southern buildings attracted my attention. Compared to her earlier, mathematical and somewhat industrial paintings, the palette brightened up with vibrating, overexposed tones. The trace of the tool also changed. Having liberated itself from the rigor of lines, it became freer, spilled and sometimes pointillistic. Architecture, however, remained in the center of attention.
Öppettider: On: 16-18, Lö: 11-15, Sö: 13-15
Svavelsticksgränd 23, Jönköping
Here, in biblical soil, the colours and the air taste different.
They are reminiscent of the textured, fluted paintings by Grzegorz Ratajczyck, his olive trees, twisted, dramatic and as permanent as the soil from which they grew.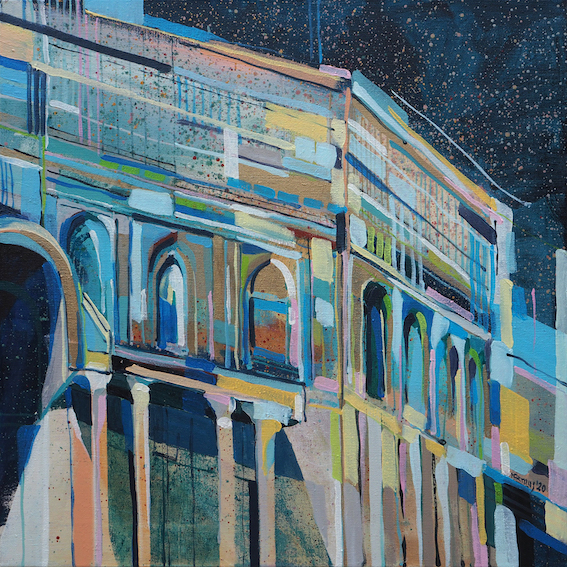 Natalia tells a story about the sun and darkness, encrusted with splashes of heat, the geometry of a shadow and a drawing construct that pops out here and there. The impressionistic cycle takes place in the scenery of squares, sanctuaries and commercial arcades, where a similar glow illuminates the stalls and chapels. The hustle and bustle of the crowd is expressed through the busy tectonics of pavements and walls. The architect's eye penetrates the tracks, showing a free, undisturbed perspective. In a way, it foreshadows the quarantine landscape.

---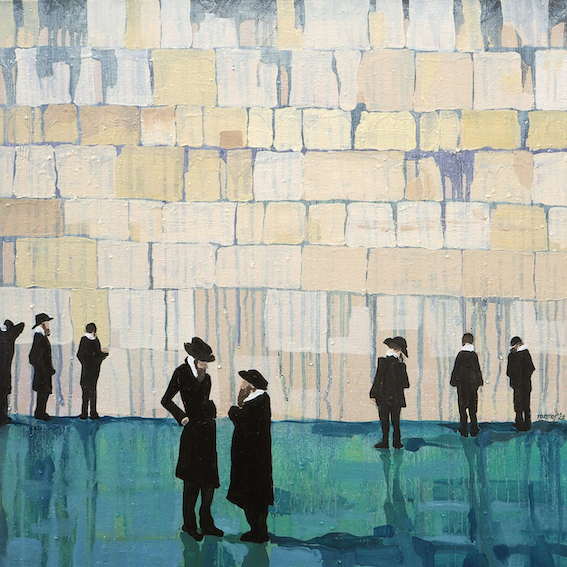 The trip, from which three years have elapsed, began an important stage of the painterly path. The exhibition entitled Immensity, impressive in terms of the number of works, the variety of inspirations and the need to create, is a testimony to the passion drawn directly from life and its lively substance.
I am grateful to Natalia for the trust and the journey which she gave me and which I would not dare to make. I made it safely, without going beyond everyday life, without violating the borders. I gained space, colour and different depth of the sky. I saw them in the images of an unknown land, seen through another person's eyes. From then on, this has also been my experience.
Natalia Wegner
March 2021